Buyers often buy new homes based upon the Kitchen and Master Bathrooms. So why not let them design and visualize the rooms of their dreams? After all, it's what's on the inside that counts!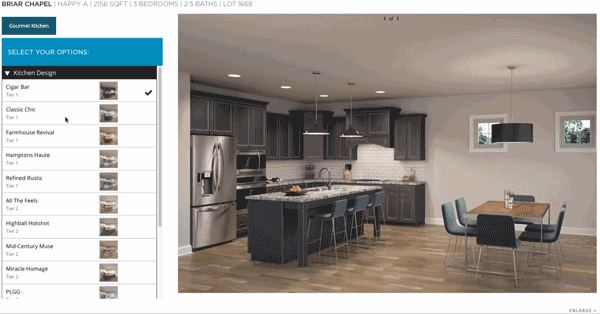 With the "My Home" App, Buyers can select finishes a la cart or design packages
"My Home" App Integration
The Interior Designer App can be a stand-alone app or it can be seamlessly integrated into our flagship "My Home" App which includes interactive elevations, floorplans, and site plans. 
Buyers get complete personalized brochures of their dream homes! They can even save up to three Favorite Custom-designed Homes!
Rendered with photoreal materials and ideal views and lighting, the rooms almost look too good. But this is what it takes to attract and engage today's Buyers.
Buyers expect to design, visualize, and save their own custom-designed rooms like they see on HGTV. This is becoming the new standard for new home shopping.
After Buyers have finished designing their rooms, they can download or email a personalized brochure of their custom design – complete with an itemization of their selections!
Builders get an emailed copy of the Buyer's brochure!
Want to Learn More About our Other Interior Products?
We're your one-stop shop for Renderings and Virtual Tours. Get these along with your app.
Sales Kiosks are becoming a critical part of a Multi-channel Digital Sales and Marketing Strategy that encompasses Email/Social Media Campaigns, Search Portals, and Websites. If shoppers register on any of these channels, the data is stored in our Anewgo Cloud. Then, Builders can not only track Shoppers as the migrate through these channels, but they can view the Buyers' Favorite personally-designed homes for meaningful Sales leads and follow-up.
Let's create something amazing together