Real-time Online Interactive Color Design
For the Same Price as Still Renderings!
Our Real-Time Cloud Rendering Engine simultaneously renders the same house in unlimited color schemes, across thousands of devices via your free company-branded responsive design web app.
It's perfect for your website, sales center, and email and social media campaigns. Or simply use it in-house to visualize and download unlimited different color renderings for the Price of One! Why go anywhere else?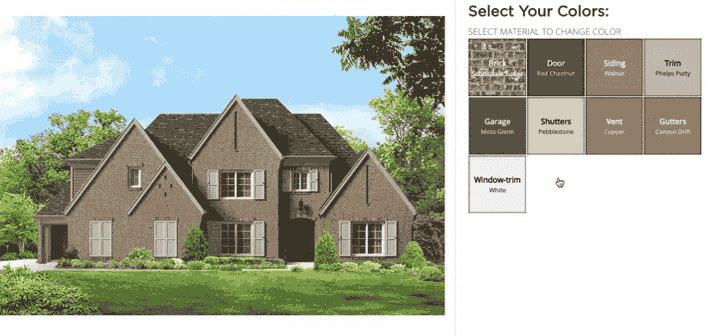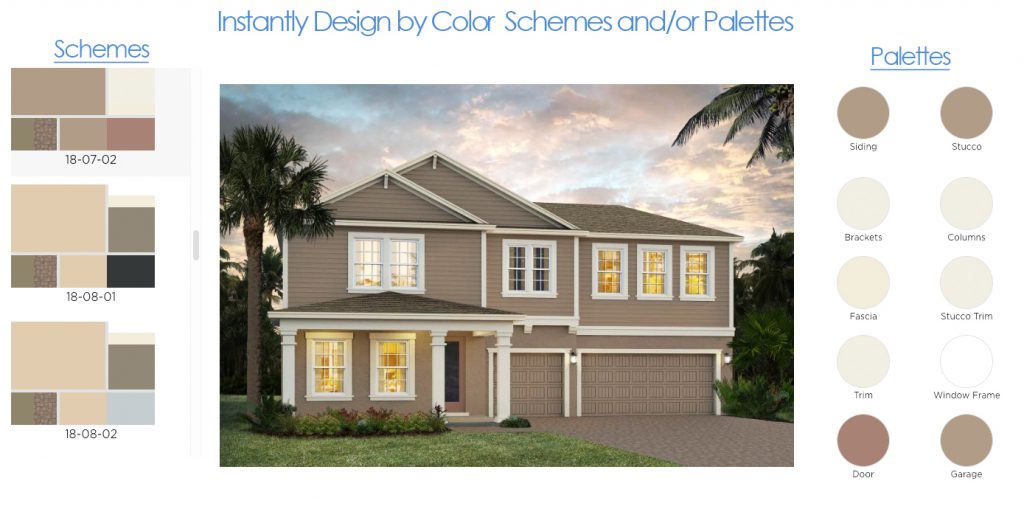 Design by Schemes and Palettes
This option combines both Color Schemes and Palettes. Buyers select from a list of color schemes for a house. Then, then they can change the colors of a few materials by choosing from a pop-up palette of available colors for each material for that special personal touch!
Get the Total Apps Package!
Then, check out our "My Home" App which offers Interactive Colors, Floor Plans, Site Plans, and Interiors.  It's our most popular App!
Learn About our Other Products!
We're your one-stop shop for Renderings and Virtual Tours.  Check them-out:
Choose from online color libraries of major paint vendors like Sherwin Williams, James Hardie and Certainteed. Search by color swatches, names, or codes. You can even offer different brick, stone or roofing options. The app then itemizes the color selections of your custom rendering!
Maximize your sales and charge more for the most popular, limited, or expensive color schemes by using the included color pricing feature.
Finished designing? Then save up to three designs and retrieve, edit, and compare them later. Or download and print them. Or better yet, share them on Facebook and Pinterest for collaborative input!
Join Our Growing List of Anewgo Color Design App Clients!
(Click on logos to view their Apps)
Want to see our hundreds of "My Home" App clients?
Sales Kiosks are becoming a critical part of a Multi-channel Digital Sales and Marketing Strategy that encompasses Email/Social Media Campaigns, Search Portals, and Websites. If shoppers register on any of these channels, the data is stored in our Anewgo Cloud. Then, Builders can not only track Shoppers as the migrate through these channels, but they can view the Buyers' Favorite personally-designed homes for meaningful Sales leads and follow-up.
Request a Free Quote or Screen-Sharing Demo
We'd love to walk-thru our Anewgo Color Design App via screen-sharing with you.
Complete the form below to schedule a time or contact Jeff: